The Intermediate camp was a great success.  Students had plenty of opportunities to display our school values and Triple A vision throughout the trip, and represented Bell Block School with pride.  The students' spirit was not dampened by a bit of wet weather.
Turangi Day:
Students challenged themselves with a 10km bike ride.  With spectacular views at almost every bend, a highlight was biking across a swing bridge over the Tongariro River.  The Intermediates then rafted down the Tongariro River, eagerly awaiting every rapid.  The students enjoyed spotting the whio, highly endangered native blue ducks who call the Tongariro River home. They ended this high energy day back at the campsite, with a movie, campfire and smores.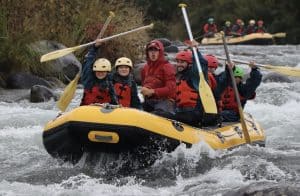 Taupō Day:
Curiosities flourished at the beginning of the Taupō Day, as during our hike from the Huka Falls to the Aratiatia Dam, students noticed a huge amount of pumice rock.  Unfortunately, the other group could not go on the hike due to bad weather, but were able to visit the Volcanic Centre instead.  Students were amazed to see the Aratiatia Dam spill, before heading on a river cruise back down the Waikato River.  Our guide was extremely informative, and drove us right next to the Huka Falls.  We then headed to Rock n Ropes, where students showed our school value of Tū Māia (Standing Brave) when completing the high ropes course.  A highlight was watching Mrs Davis and Mr Groen leap off the highest level at the Rock Drop!  A great day ended with a pizza dinner at DeBretts Hot Springs.
Campsite Day:
Orienteering, archery, sling paint, team building, disc golf and even a waterslide, the Campsite Day had something for everyone.  It was amazing to see students trying something new, challenging themselves and showing perseverance.
We would like to thank the PTA, the Intermediate teachers, our parent volunteers, the office staff, the Senior Leadership Team, The Board and our community for making this camp possible.